Murcia's Corvera Airport unlikely threat to Alicante ?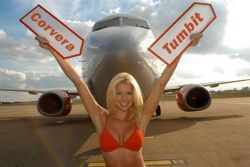 Following on from speculation last week that Murcia's Corvera international airport is close to becoming operational, questions are being asked with regards to how the new facility will be positioned to attract visitors to the region.
Whilst Corvera airport has been designed to accommodate 3.5 Million passengers per year comfortably, it should be able to process a maximum of 5 Million.
And at around 45 minutes by car from the Southern Costa Blanca, it has been muted by some that new Airport is in an attractive position to compete for some of Alicante-Elche's business, which is expected to hit a record 13 Million passengers by the end of 2017.
However, Tourism Industry insiders suggest that the impact of Corvera opening will be minimal, with only a few 'Golf package tour' holiday routes being switched from Alicante to Murcia, which is expected to be an attractive proposition for many given that the majority of Golf resorts are located to the South of Alicante.
And the same insiders suggest that this will only mean the loss of flights to Alicante in order to benefit Corvera, given that few Airlines would be prepared to run two very similar routes - as seen when Ryanair pulled routes at Reus in favour of the newly-opened Castellon.
The president of the 'Hoteles del Sur association' , Vicente Medina , also claims that Murcia's older San Javier Airport is much better placed to serve many holidaymakers and golfers, being located closer to the beaches and gold courses, and marketed as such for may years.
Medina also questioned that Corvera Airport would welcome a greater number of passengers than currently being served by the older facility, and that many visitors to the Murcia region would still continue to use Alicante-Elche airport anyway.
Hosbec, on the other hand, does not see Alicante-Elche as a competitor to Corvera - instead, considering that most passengers will be led by where Airlines chose to fly.
However, one fly in the ointment is the fact that in the 10 years it has taken to bring Corvera Airport into operation, it is now prohibited for National and Regional Governments to offer incentives for Airlines to establish routes - and as such Airlines will be making such decisions based upon the demand, profitability and popularity of routes.
Recommended Reading :
* Murcia San Javier Airport launches 2 new routes
* Murcia's San Javier Airport to close, Corvera to open