Spain banks' ECB borrowing jumps in October - central bank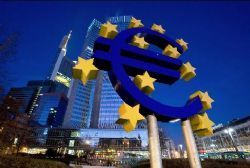 Spain banks borrowed EU175 Bln from the ECB in October from EU171.7 Bln a month earlier after lenders stocked up on cash at the beginning of October as Catalonia held a banned independence vote.
The secession vote by the northeastern region, alongside threats by the autonomous government that it would make a unilateral declaration of independence in October, prompted many banks and companies to relocate out of the region.
Two sources close to the matter told Reuters in early October that Spanish banks were behind a larger-than-expected EU21.3 Bln taken up at the ECBís auction, as they sought to build a cash buffer.
Catalan leaders made good on their threat on Oct. 27 and declared the region independent from Spain, prompting Madrid to take control of the regionís governance and the judiciary to arrest Catalan leaders involved in the secession plan.
Recommended Reading :
* Demand for ECB money spikes in tense week for Spain's future
* Bank of Spain warns Catalan secession pusht risk could put growth forecasts at risk