US "very concerned" about claims of Russian meddling in Catalonia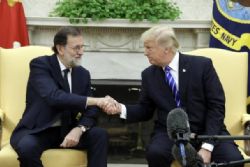 The United States is turning its attention to claims that Russia has been using social media to amplify the impact of Catalan separatism as yet another tool to destabilize western democracies.
"We are, of course, very concerned about allegations of Russian interference in events in Spain," said a spokesman for the US State Department after EL PAÍS asked for comment.
"Any Russian effort, whether external or through internal actors, to inappropriately influence Spain's internal affairs would be completely unacceptable," added the spokesman.
The Spanish government said on Friday of last week that it has evidence that Russian online groups actively promoted the independence referendum of October 1, which had been declared unconstitutional by the Spanish courts.
Online accounts with ties to the Kremlin, supported by Venezuelan networks, effectively dominated the online conversation about the referendum with messages that included disinformation, as this newspaper has reported. This included claims that Spain's Balearic Islands also want independence.
US officials, who are investigating Russian meddling in their own domestic affairs, declined to reveal whether the Trump administration has any evidence of Kremlin-sponsored activities with regard to the Catalan crisis.
The EU, in the meantime, addressed the matter at a meeting of foreign and defense ministers on Monday, following a request by Spain. And in early November, two members of the US Senate Intelligence Committee did the same at hearings with representatives from Facebook, Twitter and Google.
Russian denial
Russia has always denied such accusations, and it did again on Wednesday on the matter of Catalonia.
"We consider these claims to be groundless and more likely a deliberate or inadvertent continuation of the same hysteria that is now happening in the United States and a number of other countries," said Kremlin spokesman Dmitry Peskov in statements to the news agency AFP. "Neither Spanish authorities, nor NATO, nor the media have come up with any argument that lends credibility to these accusations."
Russia's foreign minister, Serguéi Lavrov, has called it one more manifestation of anti-Russian hysteria in the West, and a sign that affected countries are unable to deal with their own domestic problems.
"We are accustomed to seeing that some of our partners in Europe and the US apparently have nothing better to do than to level accusations against our media and declare them foreign agents," he said.
The Russian Foreign Ministry says the claims are damaging bilateral relations between Spain and Russia. Ministry spokesperson Maria Zajarova added that "we would like for our Spanish colleagues to start backing up their statements and present specific evidence."
In December of last year, US intelligence agencies concluded that President Vladimir Putin of Russia ordered a strategy to try to influence the 2016 US presidential campaign in a bid to favor Donald Trump over Hillary Clinton. This led former US president Barack Obama and Congress to adopt reprisals against Russia.
Recommended Reading :
* Russia : Allegations of meddling in Catalonia "Hysteria"
* Putin encourages independence movement via envoy to Catalonia