Camp Nou could be closed if Barca fans insult Spain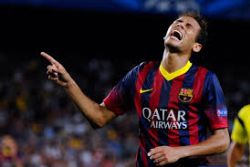 La Liga president Javier Tebas said on Friday Barcelona supporters are free to chant in favour of independence for Catalonia at games but said any "insulting" chants against Spain could lead to the temporary closure of their Nou Camp stadium.
Pro-independence gestures have been on the rise at Barca's stadium since the banned referendum on Catalonia's split from Spain on Oct. 1, which has provoked a stand off between the Spanish central government and its richest region.
The league's organising body has cracked down on antisocial behaviour in stadiums across Spain since a Deportivo La Coruna supporter was murdered by Atletico Madrid fans before a match between the two sides in the Spanish capital in 2014.
La Liga releases a weekly memo denouncing insulting chants heard in games, arguing that chants promoting violence leads to a greater risk of violence occurring in and around stadiums.
Repeat offenders can be fined, while the league has threatened partial closures of grounds if the problem persists.
Barcelona supporters have been denounced for chants deemed insulting towards opposing players and teams, but have not incurred any punishment for pro-independence chants.
Barcelona could not immediately be reached for comment.
Tebas ruled out clamping down on pro-Catalan separatist sentiment at Barcelona's stadium, where supporters chant for independence at precisely 17 minutes and 14 seconds in each half of each game marking the 1714 Siege of Barcelona.
"Chanting for independence is today not considered an insult or inciting violence," Tebas told reporters in Seville on Friday.
"Chants such as fuck off Spain, Catalonia or Andalusia have been denounced. If the Spanish federation decides a chant is subject to a sanction and the necessary bodies agree and there are various sanctions, then the league could order the closure of the Nou Camp."
Last season Sporting Gijon were ordered to close part of their El Molinon stadium for one game as a punishment for racist insults aimed at Athletic Bilbao winger Inaki Williams by a section of their supporter.
Real Betis were the subject of a denouncement earlier this month after supporters chanted "stamp on him" during a game against Getafe, which Tebas defended.
"It's not about what you see at a stadium, it is the example you are setting," added the Liga chief.
"If you go to a children's football pitch you do not want to see parents shouting 'stamp on him'. We need to set an example."
Recommended Reading :
* Airline passengers in Spain grounded for speaking Catalan
* Over half of Spaniards want early national elections : Poll