Former Spanish economy minister Rodrigo Rato ordered to stand trial for fraud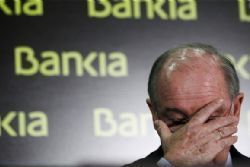 A Spanish court has ordered that former IMF Head and former Spanish Economy Minister, Rodrigo Rato, will have to stand trial for fraud. This follows the failed 2011 listing of Bankia, which he led and which later needed rescuing by the state. Heís accused of falsifying information about the bankís finances to encourage investors to buy into its stock market listing.
He will stand trial along with 30 other former Bankia executives, and could be given a five-year jail sentence.
The near-collapse of Bankia almost brought down the whole of Spainís financial sector, bailed out by international creditors for 41 billion Euros.
Rato was sentenced in February to 4 years, 6 months, in a separate case, for misusing funds when he was the boss of Bankia and Caja Madrid before that.
Recommended Reading :
* Ex IMF Chief evaded EU68 Mln says Spanish Tax Agency
* Ex IMF Chief faces trial over Spanish credit card use.