"Leader" of Catalan terror attacks used to be informant for Spanish intelligence services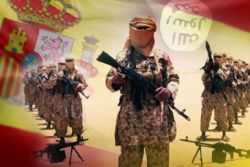 Abdelbaki Es Satty, the imam from the Spanish town of Ripoll, considered to have been the driving force behind the terrorist attacks which killed 16 in Barcelona and Cambrils on Aug. 17, had previously been an informant for the Spanish intelligence services.
El Pais newspaper quoted sources on Friday from the Spanish National Intelligence Center (CNI) who confirm that Es Satty had worked for them as an informer while serving a four-year sentence for drug trafficking between 2010 and 2014.
El Satty was arrested at the border of the Spanish enclave of Ceuta trying to bring 121 kg of hashish into Spain and imprisoned near the city of Castellon on the east coast of the country.
The source explains that the links between the CNI and the man, who had also been investigated following the Atocha train bombings of March 11, 2004, fell "within the usual protocols of the agency" and that it was "normal to obtain information to fight terrorism from those in prisons who may have information, and that there are many people who cooperate."
Es Satty was killed on Aug. 16 in an explosion in a safe house in the town of Alcanar where he and the cell were preparing explosives for a major attack in Barcelona. The explosion caused the surviving members of the cell to change their plans and instead carry out the attack using a van on Las Ramblas, which claimed 14 lives on Aug. 17, and an attack in Cambrils in the early hours of the following morning in which another person was killed.
A further person was stabbed to death as Younes Abouyaaqoub attempted to escape after the van attack on Las Ramblas boulevard.
As a result of that attack, Barcelona City Hall confirmed a series of measures this Thursday to prevent a similar incident from happening again.
The city council's security board has agreed to place obstacles such as bollards and heavy plant pots on Las Ramblas and other busy streets in the city, while the area around the Sagrada Familia Church, which is thought to have been the original target for the terrorists, will be turned into a traffic-free zone.
"The measures will be implemented in a progressive manner and will be compatible with the model of the city, affecting above all the center of the city and around the Sagrada Familia basilica," confirmed a communique on the Catalan regional government's website.
Recommended Reading :
* Breakdown in Spanish Police relations may hamper fight against terrorism
* Spain steps up security at Catalan Airport, Rail Stations : Source