Netflix hits 1 million users in Spain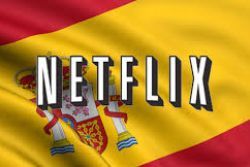 Netflix reached the milestone of 1 million subscribers in Spain in the second quarter of 2017 after once again doubling its customer base in the first 6 months of the year, according to the latest consumer household survey conducted by communications regulator CNMC. A total of 1.16 million homes throughout the country had subscribed to the video streaming service at the end of June, equivalent to 7.3% of internet households, up from 3.4% at the end of 2016.
Netflix launched in Spain back in October 2015 and is now second only to Telefonica's Movistar+ service, which leads the IPTV market with a 12.6% household penetration rate, up from 7.8% a year earlier. HBO Espana has also grown significantly since it launched a standalone VoD platform in May 2016, reaching 414,000 Spanish households, or 2.6% of the total, at the end of June.
The market leaders are likely to be challenged by Sky's new Spanish online pay-TV service, which launched in September at a cost of EUR 10 a month for access to 12 live channels and an on-demand catalogue of TV series, films and documentaries.
Recommended Reading :
* Vodafone Spain offers free pay TV for 3 Months
* Sky plans to launch streaming content service in Spain this year