Vodafone Spain slashes price of convergent plans for Black Friday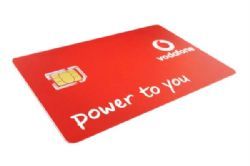 Vodafone Spain has announced that new customers will be able to subscribe to its Vodafone One convergent offer at half the usual price for six months during its "Black Friday" campaign.
Anyone signing up between 20 and 27 November be offered a 50% monthly reduction irrespective of the Vodafone One package chosen.
During the promotional week, new subscribers will also receive 6 months' free access to its Video Pass all-you-can-eat data offer allowing subscribers to stream unlimited videos at 720p quality via platforms such as YouTube, Netflix, HBO, Vimeo, Dailymotion and Vodafone TV Online, which normally costs EU8 a month.
Additional offers include a free PlayStation 4 worth EU299 for all those who acquire a Sony Xperia XZ Premium smartphone for EU29 a month.
Recommended Reading :
* Vodafone Spain offers 12mnth half-price contracts for ported clients
* Vodafone Spain reveals I-Phone X pricing