Detained Catalan government members say they accept Madrid's control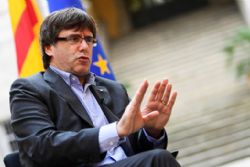 Two former members of the Catalan government held in custody over their roles in Catalonia's banned independence drive have asked to be released from custody after accepting Madrid's control of the region, according to appeals published on Monday.
Prime Minister Mariano Rajoy sacked the Catalan government and took control in October, hours after the Catalan parliament made a unilateral declaration of independence in a vote boycotted by the opposition and declared illegal by Spanish courts.
Lawyers for Jordi Turull and Josep Rull have lodged requests with the High Court to be released, saying they had not shown any resistance to Rajoy instigating direct rule over Catalonia by activating Article 155 of the Spanish constitution.
Six other ex-members of the Catalan government and the leaders of the two main pro-independence grassroots groups are also in jail awaiting trial at the High Court on charges of rebellion and sedition.
Catalonia's independence movement has deeply divided Spain, dragging it into its worst political crisis since the return of democracy four decades ago and fuelling anti-Spanish sentiment in Catalonia and nationalist tendencies elsewhere.
Rajoy has called a Dec. 21 election in Catalonia, which he hopes will lead to a unionist majority in the regional parliament. Separatist parties failed to agree to run on a united ticket, knocking their chances of retaining control.
In their requests to the court, Turull and Rull's lawyers said there was no risk their clients would hide or alter or destroy evidence.
"My client has accepted the application of Article 155 of the constitution by the Spanish Government," they said.
Earlier this month, Spain's Supreme Court released the Catalan parliament speaker Carme Forcadell on bail of 150,000 euros after she agreed to renounce any political activity that went against the Spanish constitution.
Ousted Catalan leader Carles Puigdemont is in Belgium, and Spain has issued a European arrest warrant for him. He said a week ago he might consider a solution to the crisis that did not involve Catalonia's secession.
Recommended Reading :
* Leader of Catalan terror attacks used to be informant for Spanish intelligence services
* Breakdown in Spanish Police relations may hamper fight against terrorism