Spain's economy to grow above 3.1 pct in 2017 : Minister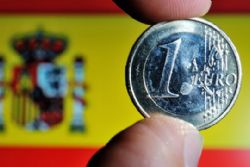 The Spanish economy will grow above 3.1% in 2017, Minister of Economy and Competitiveness, Luis de Guindos, said on Tuesday.
De Guindos made this statement after a conference in Spain's eastern city of Alicante where he said that exports lead the country's economic growth.
He explained that economic growth would be above 3.1% despite the fact that economic growth has slowed down in northeastern region of Catalonia.
However, uncertainty surrounding the political situation in the Catalan region would affect Spain's economic growth for 2018.
In line with this, the Spanish government had revised down the country's economic growth for 2018 from the previously predicted 2.6% to the current forecast of 2.3%, while revising it up for 2017 from 3% to 3.1%.
De Guindos explained that foreign trade would be leading the country's economic growth. "It is the main driver of the national economy as well as the Catalan one", he said, warning that instability had affected consumption and investment in this region in Q4.
According to the Ministry of Economy, exports rose by 9.1% year-on-year in the first 9 months of the year in Spain, hitting a new record high.
Recommended Reading :
* Spain's economic predictions revised down due to Catalan crisis
* Spanish could lose 27Bln over Catalan crisis