Crowded Spanish holiday market takes toll on Thomas Cook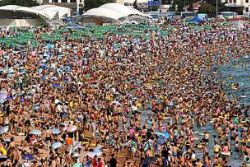 Travel group Thomas Cook reported lower profit margins in its British business due to tough competition in Spain, sending its shares down more than 10% and leaving it reliant on a recovery in Egypt and Turkey to ease the pressure.
Tour operators and airlines have expanded capacity in Spain and other western Mediterranean destinations in response to security concerns in markets such as Tunisia, Egypt and Turkey.
That has prompted a price war among tour operators serving Spain, while allowing hotels to increase prices that Thomas Cook must pay, squeezing margins from both sides. A weaker pound has made the situation more difficult.
The company said that while bookings for next summer were at an early stage, better demand for trips to Egypt and Turkey in 2018 should help alleviate some of the margin pressure.
"My experience tells me that (the Spanish market) is balancing out," Chief Executive Peter Fankhauser told reporters on Wednesday.
"As soon as Turkey, Egypt and the eastern Mediterranean destinations (have) increased demand, the Spanish hoteliers will see that they will have to adapt their prices to level it out."
Fankhauser said that 42% of holidays in summer 2017 were to Spain, but that should go down, with some capacity redirected into Egypt.
The stock was down 10.9% at 0950 GMT, hitting its lowest level since July, after Thomas Cook said that margins in Britain were lower after 4 consecutive years of profit growth.
Larger rival Tui was down 2.0%, the top FTSE 100 faller.
STRONG START
Underlying earnings before interest and tax (EBIT) were 330 million pounds in 2016-17, Thomas Cook said, a little ahead of an analyst consensus of 327 million pounds.
The group said it was "well positioned" to achieve current market expectations for 2018, given strong early bookings for next summer.
One positive element was the performance of the group's airline business, which improved profits by 24 million pounds in the year, helped by a recovery for German carrier Condor.
Fankhauser said that the performance was especially encouraging in a year when Air Berlin, Monarch and Alitalia have all gone into administration, partly as a result of the intense competition in the industry.
Analysts at Panmure Gordon said the UK business would be the focus for investors and detracted from the bright spots in its airline business and Europe.
"Momentum in Condor and Continental Europe is encouraging, but UK profits and margins are down and commentary is more cautious than we would like to see given the challenging macro backdrop," analysts at Panmure Gordon said in a note.
Recommended Reading :
* Brexit may see EU miss out on UK's 37Bln tourism contribution
* Spain to exceed 80 Mln tourists in 2017