Six euro zone states risk EU budget rule breach in 2018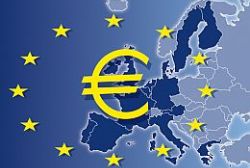 The national budgets of 6 euro zone countries may break EU deficit rules next year, the European Commission said on Wednesday, issuing what has become a frequent plea for governments to stay within the limits.
The regulations, set out under the bloc's Stability and Growth Pact (SGP), say that EU countries should have nominal budget deficits below 3% of economic output and public debt below 60%.
For 2018, the draft assumptions of Belgium, Italy, Austria, Portugal, Slovenia and France posed a risk of not cutting the structural budget gap - which strips out business cycle swings and one-offs - fast enough, the EU's executive said.
"We ask (them)....to take the necessary measures... to ensure that the 2018 budget will be compliant," Commission Vice President Valdis Dombrovskis told a news conference.
Since the Pact was introduced in 1997, not a year has gone by without at least one EU country's public finances overshooting one or other target.
Euro zone finance ministers complain that the rules have become too complex and their application by the Commission has not been consistent, and the 2 sides are exploring ways to make the framework simpler.
The Commission has the power to impose fines and other penalties for non-compliance, though France was never penalised despite running an excessive deficit for a decade, while Spain, Portugal and Italy have been shown what some budget-setters in other states considered excessive leniency.
The Commission said on Wednesday that France, Belgium and Italy were also not reducing debt at the pace required by EU rules, singling out Italy's debt of 130% of GDP, the second highest in the EU after Greece, as of particular concern.
It is to review Italy's debt cutting plans in spring 2018.
POLITICALLY SENSITIVE
Italy faces national elections by May next year, making any fiscal tightening politically sensitive. The anti-establishment Five Star movement is well placed to win the ballot with promises to clean up politics and guarantee a minimum income for all.
"The fiscal adjustment... for 2018 is not adequate in light of the sustainability challenges that Italy faces," the Commission said, urging authorities to use windfall gains to reduce debt.
Italian Treasury sources said they were confident that the dispute with the Commission could be resolved without the need to resort to further measures.
France may bring its deficit below 3% this year, but could break the rules again next year by not cutting its structural deficit enough in 2018, it said.
The rules use the structural deficit in some cases because it gives a better picture of what the government is really doing, not masked by seasonal rises or falls of tax revenue or unemployment benefits. But it is an artificial measure that has to be calculated on the basis of other computed indicators.
The Commission analysed the draft budget plans of all euro zone states except Greece, which is under a bailout programme.
It said Germany, Lithuania, Latvia, Luxembourg, Finland the Netherlands, Estonia, Ireland, Cyprus, Malta and Slovakia were either fully or broadly compliant.
The Commission recommended a broadly neutral fiscal stance for the euro zone as a whole. "This should contribute to supporting investment and improving the quality and composition of public finances," it said.
Recommended Reading :
* Spain's economy to grow above 3.1% in 2017 : Minister
* Brexit may see EU miss out on UK's 37Bln tourism contribution