No Reprieve for 500,000 Expats with 'Frozen' Pensions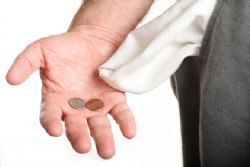 Whilst there is still uncertainty revolving around much of Brexit, British pensioners retiring in Europe are one group who know what is happening. In September, Britain and the EU reached an agreement of expats' state pension when the UK officially leaves the EU.
There had been fears that pensions would be withheld from expats following Brexit. However, the change earlier this year confirmed that expats living in the EU (including those which are part of the EEA and Switzerland) will benefit from the 'triple lock' and pensions increase yearly by the highest or earnings, inflation, or 2.5%.
However, a much larger group of expats will not receive this same amnesty – the 500,000 expats with 'frozen' pensions. This group, who mainly live in Commonwealth countries – will not receive an annual increase.
Affecting the Commonwealth, the issue is beyond Brexit and activist groups from the likes of Australia and Canada have been lobbying for change for years. These groups argue that the British Government discriminates against expats living in certain countries and are the only country to pay pensioners based on where they live.
Value of the Pound
Since the Brexit vote was cast, the value of the pound has plummeted. Despite a slight resurgence recently, the pound is down 16% against the South African rand and 11% against the Australian dollar.
The only country out of those populated by 'frozen; pensions where the pound has strengthened is Nigeria.
Country Pensioner - Population - Value of £ Against Local Currency
South Africa 36,373 -16.10%
Thailand 4,745 -15.90%
India 5,248 -13%
Australia 245,951 -11%
Canada 144,370 -10.50%
Hong Kong 2,313 -10%
Pakistan 3,476 -9.85%
Japan 5,757 -6.20%
New Zealand 65,022 -6%
Nigeria 2,482 14%
State Pensions
Any UK citizen's state pension is based on their National Insurance record. Since April 2016, any pensioner who paid towards 35 years or more of National Insurance contributions receive £160 from the state per week. Those who paid less NI, receive less.
Before the change in April 2016, pensioners received a basic and additional earnings-related state pension. An individual receiving the full basic pension in 1980 (£27.15) would now be receiving more than quadruple this amount – £122.30.
A spokesman from the UK Department for Work and Pensions stated: "The Government has a very clear position, which has remained consistent for around 70 years: the UK state pension is payable worldwide but is only uprated abroad where we have a legal requirement to do so or a reciprocal agreement is in place."
Recommended Reading :
* Could pensions be withheld from expats in light of Brexit ?
* Shining a light on the Brexit expat offer