Spain to sell 7% of state-owned lender Bankia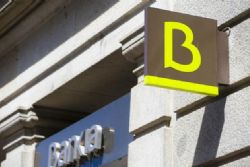 Spain's bank bailout fund plans to sell about 7,0% of state-owned lender Bankia and has hired UBS, Deutsche Bank and Morgan Stanley to manage the sale, a source with knowledge of the situation told Reuters on Monday.
A Bankia representative declined to comment. The FROB bailout fund was not immediately available for comment.
Confirming a report published on Monday by Spanish online news outlet Vozpopuli, the source said the sale, worth around EU840 Mln would be via an accelerated bookbuild.
Economy Minister Luis de Guindos said last month that the government, which owns 67.0% of Bankia, was planning to further sell stakes "as soon as possible".
Recommended Reading :
* Former Spanish Economy Minister Rodrigo Rato ordered to stand trial for fraud
* Spain's Bank bailout fund FROB books loss of EU1.7 Bln in 2016