Spain's business creation rises by 1.5 pct in October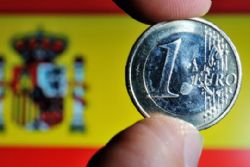 The creation of new businesses in Spain rose by 1.5% in October when compared with the same month of year earlier, according to data published on Tuesday by Spain's Statistical Office (INE).
The INE reported that a total of 7,236 new companies were created in the tenth month of the year, which used a subscribed capital of EU432 Mln - 39.9% less than in the same month of a year earlier.
A total of 21.5% of the companies created in October belonged to the trade sector and 14.5% belonged to the construction sector.
A total of 1,507 companies were dissolved in October, which meant a 2.3% fall year-on-year.
On a month-to-month basis, business creation rose by 17.6%, while the number of companies dissolved fell by 36.1%, the INE said.
Among regions, center region Madrid, southern Andalusia and Northeastern region Catalonia registered the highest number of new businesses in October. A total of 1,709 new businesses were seen in Madrid, Andalusia saw 1,260 new companies and Catalonia 1,224 new businesses.
Recommended Reading :
* Spain's economy to grow above 3.1% in 2017 : Minister
* Spanish economy could lose EU27 Bln over Catalan crisis warns Bank of Spain