Ryanair pilots suspend Christmas strike threats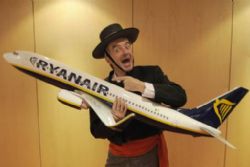 Unions representing pilots in Ireland and Portugal have suspended plans to strike before Christmas, lifting the threat of walkouts at the low-cost carrier after it agreed to recognise trade unions for the first time.
Ireland's Impact trade union and Portugal's SPAC announced on Sunday that they would cancel planned 24-hour strikes due to take place on Wednesday after Ryanair agreed to recognise the unions as the representatives of pilots in the two countries.
The Irish carrier on Friday offered to recognise unions for the first time after pilots in Ireland, Britain, Germany, Italy, Spain and Portugal threatened walkouts, throwing Christmas travel plans into chaos.
Impact said it would meet Ryanair management on Tuesday and "looked forward to establishing a positive relationship."
Ryanair earlier said British union BALPA and Italian union ANPAC had agreed to meet with Ryanair in early January. It said it had offered to meet SPAC on Thursday.
"Let's keep talking. Get people home quietly for Christmas," Ryanair Chief Operations Officer Peter Bellew said in a statement.
While the decision to recognise trade unions for the first time in Ryanair's 32-year history has averted the threat of strikes, the move rattled investors and shares in the budget carrier fell almost 9% on Friday.
Impact had planned its industrial action with the support of 94% of pilots directly employed by Ryanair in Ireland. However, a majority of pilots used by the airline in Ireland are not directly employed by the company.
Therefore, the Dublin-based airline said Friday it would recognise the unions "as long as they establish committees of Ryanair pilots... as Ryanair will not engage with pilots who fly for competitor airlines."
The BALPA union on Saturday said it had accepted Ryanair's offer to represent British-based pilots, but only if the TUC federation of British trade unions was allowed to attend future talks.
Pilots in Germany have voted to take industrial action during the Christmas period and German union Vereinigung Cockpit said the onus was now on Ryanair to "prove that this announcement is serious." In Spain, there are no strikes planned for pilots, but ground staff unions have not ruled out action on December 30.
In addition to union recognition, pilot unions are seeking an overhaul of the airline's system of contracts and collective bargaining.
Recommended Reading :
* Crowded Spanish holiday market takes toll on Thomas Cook
* Spain to exceed 80 Mln tourists in 2017