Migrant arrivals in Spain doubled in 2017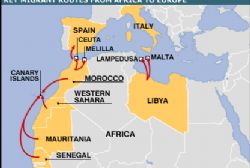 Twice the number of migrants came to Spain last year compared with the 2016, the International Organization for Migration (IOM) reports.
More than 21,468 people arrived via sea and another 5,473 via the Ceuta and Melilla borders in 2017 and as many as 3,116 were feared drowned in the Mediterranean in the attempt to reach Europe.
The IOM figures show that from January 1 to December 20, 2017, some 26,941 migrants arrived in Spanish territory compared with 13,246 the same period in 2016.
Over 43,600 migrants arrived in the two-year period between 2015-2017. Spain is the southern European country which has seen the highest increase in migrants. However, the total number of refugees arriving in Europe via sea along the various Mediterranean routes - eastern, central and western - fell to 181,543 people in 2017 from 378,895 in 2016.
Recommended Reading :
* Spain to head EU mission against human smuggling in Mediterranean
* About 600 migrants from Africa rescued off Spanish coast