Spain Among the Countries with the Highest Unemployment in Europe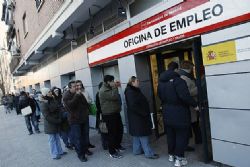 Spain stands out among the European countries with the highest unemployment rates, registering a figure of 16.7% in November 2017, according to data published today by the Eurostat statistics office.
According to the report of the European office, Madrid is the second country with the highest unemployment after Greece, because the latter nation has not updated its data but in September it registered an unemployment rate of 20.5%.
By contrast, the European countries with the lowest unemployment rate in November last year were the Czech Republic with 2.5%, followed by Germany and Malta, both with a percentage of 3.6%.
In relation to youth unemployment, Spain also ranks 2nd behind Greece, with a rate of 37.9% registered in November 2017.
The information adds that until November the unemployment rate in the EU fell by one percentage point compared to the same period in 2016.
Recommended Reading :
* Spain : 3.4Mln unemployed in December, best data in 8 yrs
* Spain's November jobless rises by 0.21% m-m to 3.47Mln people