Spanish, Dutch deny joint plan to seek softer Brexit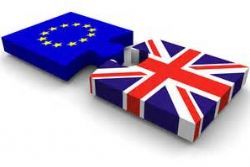 The Netherlands and Spain have not reached an agreement about how Britain should leave the European Union, a Dutch Finance Ministry official said on Friday, denying an earlier report of a deal that drove sterling sharply higher.
Bloomberg reported earlier on Friday that the Spanish and Dutch finance ministers had agreed to work together for a softer Brexit agreement that maintains close ties between the EU and Britain.
The Spanish finance minister met his new Dutch counterpart but no deal was reached, spokesman Coen Gelinck said.
"There is nothing new here. They are well-known positions that were exchanged... We were there for a get-to-know-you meeting and we discussed the fact we both have strong ties with the U.K. and that it is in our interests that this is known," Gelinck said.
Spain's economy ministry also denied the report.
Spain and the Netherlands both support the EU's Brexit negotiator Michel Barnier, Gelinck said.
Britain is due to exit the EU on March 29, 2019, but is preparing to discuss the terms of a two-year transition period beyond that date with Barnier, who represents the interests of the other 27 EU member states in the Brexit negotiations.
Britain and the EU also aim to discuss their future trading relationship. Some in the UK government favour keeping close ties with the EU, the country's biggest trade partner, in what is known as a "soft Brexit", while others want a clean break.
After the report, sterling traded up more than one percent on the day at $1.3692, its highest level since the Brexit referendum on June 24, 2016.
The currency plunged after Britons voted by a small margin to leave the EU.
Recommended Reading :
* Questions on free movement red tape linger in Brexit citizens deal
* Six Euro-zone states risk EU budget rule breach in 2018