Opinion poll places Ciudadanos as most voted party in Spain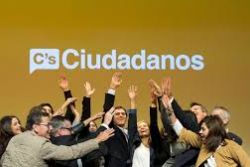 An opinion poll compiled by Metroscopia and published in the Spanish "El Pais" newspaper on Friday predicts that if a general election were held in Spain now the center-right party Ciudadanos would win the most support.
The poll says Cuidadanos would win 27.1% of the vote compared to the 13.1% the party led by Albert Rivera won in the June 2016 general elections.
Mariano Rajoy's ruling People's Party (PP) would claim 23.2% of the vote (compared to 33% in 2016), while the Sociality Party (PSOE) would win 21.6% of the vote (slightly below the 22.6 percent they won in the last election), while left wing formation Podemos sees support slide from 21.2% to 15.1%.
The poll is the first time that either the PP or the PSOE have not led voting intentions since both parties took on their current identities and if repeated in an election the result would allow Ciudadanos to form a coalition government with the support of the PP.
This is a turnaround from Spain's current government in which the PP govern with the support of Rivera's party.
The poll was taken in the wake of the Dec. 21 Catalan regional elections in which Ciudadanos won the most votes (25.4%) and 36 seats in the Catalan regional assembly and it seems clear the party has benefitted from its profile in that election and in the Catalan independence crisis.
No elections are programmed in Spain until 2019 when there are local and regional elections and it will be interesting to see how relations between the PP and Ciudadanos evolve over the coming year, while it seems clear that the left wing in Spain needs to do something to boost its flagging support.
Recommended Reading :
* Over half of Spaniards want early national election : Poll
* Spain : 4,772 political parties and counting