Bull injures spectators at event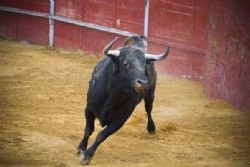 A bull has injured more than 30 spectators after leaping into the stands and charging at a crowd of terrified spectators at a bullring in northern Spain.
National television showed dramatic footage of frightened crowds scrambling to safety after the animal managed to scale the fence and run amok through the stands.
The incident happened in Tafalla, in the northern region of Navarra, during a contest of "recortadores", where participants try to dodge the bull as it runs around the arena.
During the rampage, a 10-year-old boy was left in a serious condition with stomach wounds while another spectator was gored in the back.
The other injuries were minor and were treated by medical staff on site.
Spectators and officials eventually succeeded in tying a rope around the bull to bring it under control.
The animal was then removed from the arena with a crane and later killed.
The incident comes amid intense debate in the country over the future of bullfighting as last month Catalonia become the first major Spanish region to ban the controversial sport.