Spain's unemployed enthusiastic about learning English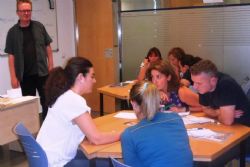 Spain's economic downturn is sending jobless workers flocking back to school to learn other languages - mainly English - to boost their appeal to employers, providing a boon for language academies.
With an unemployment rate of over 21 per cent, the highest in Europe, many of those with a job are also brushing up their languages skills in the hope that this will help them keep it or lead to a more secure position.
"The deeper the crisis, the stronger people's desire to develop their skills," said Antonio Murillo Isidoro, 37, the director of expansion at English Connection which runs Spain's largest network of English language schools.
English Connection plans to open 20 new schools this year, bringing the total to 36. Over the next five years it plans to open a total of 100 schools.
Other private language schools are also growing as is the popularity of going abroad for a short period to learn to speak another language.
About 150,000 Spaniards travelled abroad to study a language, mostly English, last year, up from 105,000 in 2006 before the start of the economic slump, according to Spanish Association of Promoters of Courses Abroad.
Poor foreign language skills have long been a weakness of the Spanish workforce.
Nearly one in two Spaniards, or 46.6 per cent, cannot speak a foreign language, the fourth highest level in the European Union after Romania, Hungary and Portugal, according to European Union statistics agency Eurostat.
Neither Prime Minister Jose Luis Rodriguez Zapatero nor the leader of the main opposition Popular Party, Mariano Rajoy, speak English - although Rajoy said during a radio interview last month that he studies the language for three hours a week and practices it whenever he travels.
Part of the problem is that the vast majority of Spain's adult population received the bulk of their education while the country was under the sway of dictator General Francisco Franco, who kept the nation isolated.
The overwhelming majority of foreign television shows and movies continue to be dubbed into Spanish, limiting contact with foreign languages.
And while the importance of foreign language education in public schools has increased since Franco's death in 1975, the number of hours dedicated to language training has until very recently lagged what is the case in most other European nations.