Huge Earthquakes hit Spain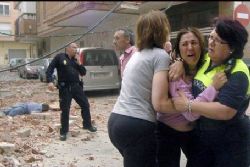 At approximately 5pm today, local time, a huge earthquake measuring 4.5 hit Spain causing extensive damage and widespread panic.
Soon afterwards a second, much larger, earthquake struck measuring 5.2 on the Richter scale levelling buildings already stricken by the first and brought chaos for people and the emergency services.
There are seven confirmed fatalities and this number is expected to rise as events unfold. Additionally, many have been injured, some serious, and hundreds are reported to be trapped in apartment blocks and lifts.
The epicentre appears to be in Lorca, Murcia with a population of over 100,000 - Burst pipes, severely damaged buildings and debris are hampering the efforts of emergency personnel.
All government and public buildings have been evacuated in the city.
Telecommunications are also suffering as people call friends and family for reassurances of their safety. Intermittent mobile and landline communications have been reported.
"It was unbelievable!" said eye witness Josefina Rodriguez, a teacher in the city. "We've had minor tremors here before but this is the worst I have experienced!" Josefina has lived in the city for over 31 years.
"Everyone was screaming and running around then buildings started to collapse..." added Josefina who was visibly shaking in the aftermath of the earthquakes.
It is exactly 2 months to the day since Japan was struck by a massive earthquake and subsequent tsunami which killed thousands and leaving many more missing. The high video exposure of the disaster in Japan is likely to be still fresh in the minds of people and has no doubt added to the fear and chaos in Lorca.
Spain doesn't usually experience earthquakes of any real significance, however recently, several more serious earthquakes have been recorded, absolving geologists who have been warning of a big earthquake in Spain for some time.
The emergency services are on red alert and a full scale emergency plan is in full effect.