Update : Murcia earthquake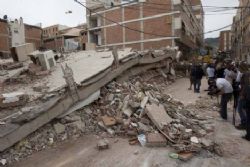 Residents of Lorca Murcia awoke this morning still trying to come to terms with the severity of the situation in the aftermath of 2 huge earthquakes and several aftershocks which devastated the historic city yesterday.
Overnight, fearful of further aftershocks and the risk of their homes collapsing around them, residents spent the night outside in public parks and emergency shelters cared for by relief organisations and fellow Lorcians from across the city.
There have been 10 confirmed fatalities and many more injured.
Both hospitals in the area were evacuated due to structural damage and remain closed today. Patients have been transferred to central Murcia hospitals and others across the region.
Spanish President, José Luis Rodriguez Zapatero, who was in a meeting with Spanish King Juan Carlos when he was informed of the unfolding disaster, has ordered military search and rescue teams into the area to assist with the relief effort.
Several high profile politicians have marked the tragedy with a minutes silence for the victims and anyone caught up in the disaster.
Spain is about to go to the polls to elect their local mayor, however candidates in Lorca have called for its suspension whilst the city recovers from the unprecedented earthquakes.
Whilst not especially well known for earthquakes, Spain does experience thousands of tremors a year, however most are so small they are barely recognisable. Murcia is the most seismically active region in Spain, situated close to a major fault line beneath the Mediterranean Sea where the European and North African plates brush past each other.
"Spirits are high despite the carnage" said Josefa Campayo, a resident in the city. "Everyone is still nervous, but trying to do what they can" she added.
The city centre, which bore the brunt of the damage, remains sealed off this morning and structural engineers from around Spain have descended on the city to asses the damage and identify buildings which pose a risk of further collapse.