Which airlines will fly into Corvera airport ?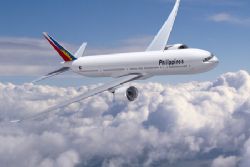 As Murcia's new Corvera airport gears up for a Spring 2012 opening, questions are being asked as to which airlines will actually operate flights to and from the airport.
San Javier airport, with it's new runway, is located just 19km away, and perhaps better suited to serving the coastal communities, whilst Alicante's El Altet airport, with it's new terminal building, is just 80km up the road. It seems highly unlikely that any airline would choose to serve all three airports with them being grouped together in such close proximity.
It may be shrewd move by the airlines in waiting to see what offers are made to them, however it seems like the new Corvera airport has a number of things that 'may' work in it's favour :
The Paramount Theme Park : Paramount themselves have estimated that the largest theme park in Europe will attract as many as 5 Million tourists and business delegates every year. An extension to the 100 Hectare site, which is located just minutes away from the airport, has already been planned and has attracted a number of interested investors. The forecast visitor numbers, together with the expected increase in visitors staying away from the park, has seen the airport estimate traffic volumes of 3 million passengers per year.
Infrastructure : A Number of new roads, together with an AVE high speed rail link have been built specifically to make connections to and between the airport and theme park as easy as possible.
AENA : Unlike El Altet and San Javier, Corvera will not be operated by AENA - the Spanish Airports Authority. This is expected to result in a significant reduction in costs and an increase competition. With many airlines flying on tight margins, this is sure to be a consideration for them.
Ryanair : Love them or hate them, Ryanair are undoubtedly the largest airline serving the Alicante / Murcia areas. The airline accounts for 34% of all passengers at El Altet airport and 47% of all passengers at San Javier. Ryanair and AENA are frequently at loggerheads with each other. Will Ryanair consolidate operations in the Murcia / Alicante area with the new airport, or simply use the opportunity to negotiate a tougher bargain with AENA ? It is also likely that the other airlines are waiting for Ryanair to play their hand before revealing their own.