Forest Fires Continue to Rage in Jalon Valley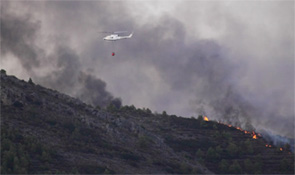 As forest fires continue to rage in the Jalon Valley, the full scale of the unfolding disaster is beginning to emerge.
Several hectares of forest have been destroyed and an unconfirmed number of homes have been affected.
Throughout the night, fire fighters and the public have battled valiantly in a united effort to protect property and belongings. Several trees have been cut down and surrounding shrub land cleared of tinder like material.
Since first light this morning, approx. 5am, helicopters and airplanes have decended on the Jalon Valley in an attempt to quash the fire before any further destruction occurs. A near constant flow of water is being dropped from the air by helicopters collecting water from reservoirs in nearby Alcalali and Parcent whilst the planes appear to be collecting water from the sea itself.
With more extreme heat forecast for the day, fire fighters are thankful that winds are relatively mild, however the task at hand is mammoth.
So far the mild winds have pushed the flames away from the main village of Jalon towards Gata and out of the valley, however other villages in the area have not been so fortunate.
Our earlier, breaking news report can be read by clicking Here.
Photograph courtesy of Adrian Harvey Photography