New Date Set For Arab Investment Forum In Murcia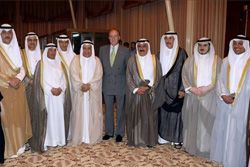 A new date has been set by the Arab Investment Forum's visit to Spain.
The meeting was originally intended to be held in June of this year, but was cancelled due to political unrest in much of the near-east and northern africa. A date has now been set for the 26th and 27th of October and is believed to take place at the Intercontinental Hotel at the la Torre Golf resort.
The forum is being organized by Economics and Business Group, Marta Consulting company in Dubai in cooperation with Government of Spain, represented by the Federal Government of Murcia Province, under the Patronage of King Juan Carlos of Spain.
The forum is the first of its kind in Spain and is aimed at deepening the commitment between Spanish and Arab businessmen and investors by presenting and highlighting the extensive business and investment opportunities in Spain and the Arab World.
A number of different guests and speakers have been invited to attend the event, which is widely hoped and expected to result in a boost of foreign investment for the country.
With the completion of Murcia's Corvera International Airport being less that 6 months away, and with there being so much interest in the Paramount Pictures theme park - due to open in 2014 - it can be no coincidence that Murcia has been chosen as the location for the meeting.
Paramount have already openly stated that they are courting investment for a Phase II extension of their 100 hectare site, which they may be fortunate in securing at the forum.