Scepticism still surrounds Corvera Airport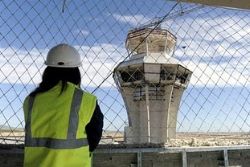 With the new Corvera International Airport scheduled to open in around 6 months time, the level of scepticism that surrounds the project is understandable. The fragility of the national and regional economy and the country's current distaste for costly projects like this are one thing, but when the airport is being compared to the widely criticised airport projects at Valencia and Castilla-la-Mancha, and other 'white elephant' airports, it seems that Corvera has a lot of PR to do to sway public opinion even before it opens it's doors.
The regional government of Murcia conceived the idea of building a new airport at Corvera after giving up on the idea that the Military-constructed airfield at San Javier would be handed over to the to run as a regional airport for civilian use. The project has also been a key contributing factor in promoting investment in the region - notably at the Paramount Pictures Theme Park and the Arab Investment Forum, who recently visited the region.
Further infrastructure associated with the airport - notably train routes and Motorways - has also been constructed at considerable cost.
The region will be responsible for the running of the airport and as such it is vital that it is used as widely as possible and does not fall into decline in the two years that it must operate before the local Paramount theme park opens for business. Earlier this year it was revealed how less than half of Spain's 42 airport make a profit, with some seeing periods of months at a time between flights.
It is perhaps with this in mind that the President of Murcia announced a series of road shows to be held across Europe to promote tourism in the area.
Still no news on which airlines, if any, will fly to the airport though.