Spain mulls delaying state lottery IPO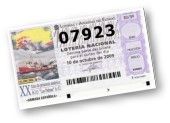 Spain is considering delaying the sale of state lottery owner LAE amid tepid international investor appetite at the price expected by the government, newspaper El Mundo reported, citing investment bank sources.
Spain wants to list 30% of Loterias y Apuestas del Estado (LAE) in November in what would be the country's largest initial public offering, and expects to raise about 7 billion euros.
The timetable has been maintained despite turbulent financial markets and a general election due to take place that same month.
"Investors are interested, but at much lower prices than the Economy Ministry wants," said one investment banking source quoted in the article.
No one at the Economy Ministry was immediately available to comment.
Global coordinators are Santander , BBVA , Goldman Sachs , UBS , JP Morgan and Credit Suisse .