Salgado to Quit Cabinet to run as EIB President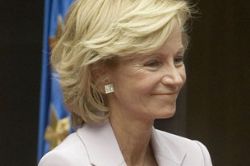 Spanish Daily Newspaper, El Mundo, has today reported how the country's Minister for Economy and Finance, Elena Salgado, will run as candidate to become the next president of the European Investment Bank.
The current president of the EIB, Philippe Maystadt, retires from the position at the end of the year.
The Minister will leave her position when the current administration comes to an end and has already made moves towards applying for the position, according to sources.
This would make Minister Salgado the second Minister to quit her post when the current administration ends, following a similar announcement by the Culture Minister, Angeles Gonzalez-Sinde, yesterday.