Court of Auditors Criticises Corvera Airport Delay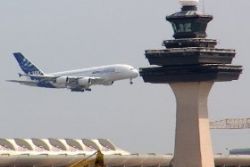 Spain's national Court of Auditors has criticized the Murcian regional government over the delays in opening the new Corvera International Airport.
The Court noted how original contracts agreed in 2006 and 2007 stated how the airport would be open for commercial flights by 24th June 2010. The court reminded the regional government how a penalty of 120'00 euros for late completions had been agreed in the original contract, payable by Sacyr.
The body responsible for overseeing the accounts of the project has also spoken of "significant irregularities, anomalies or deficiencies" in the allocation and management of the airport being built in Corvera.
The Court noted how the Airport of Murcia (Aeromur) only secured financing to complete the project in May of 2010 - just one month before the airport was originally due to open. Estimates now put an opening date as summer of 2012 - two year over schedule.
The inability of the airport being able to continue to secure financing resulted in the project grinding to a halt, which was only able to recommence when the Autonomous came forward with the required loan.
The required funds were not available until 25th of June of 2010, where at this point the Court also criticized the regional government for not modifying the original contract with regards to the delay in the project.
Another problem raised concerned the owners of the land compulsory purchased for the construction of the airport, who rejected the prices offered to them as being, "markedly inferior" to prices being paid to owner of land that had been similarly purchased by the government for use in the road infrastructure leading to and from the airport.