Who will pay compensation for the closure of San Javier Airport ?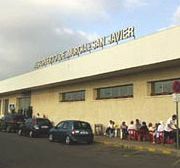 The Regional Government of Murcia has acknowledged that they are considering the possibility of closing San Javier airport to coincide with the opening of the new Corvera International airport.
Spanish Airports Authority, AENA, would be compensated to offset the investment that they have made in building the second runway at San Javier and expand the terminal, which has been renovated in recent years.
The facilities at San Javier airport are operated and maintained jointly with the Military.
The problem is that the AENA has invested over 100 million Euros at San Javier since it began building the second runway, which opened last March. Frustratingly for some, the regional government could have saved itself this compensation payment if Corvera airport had been opened and completed by it's original agreed date of 24th June 2010.
The issue of compensation becomes more problematic because Corvera Airport is private and will be run and managed by a business consortium. The question then is whether Aeromur are willing to pay compensation to offset the closure of San Javier, or whether this should be assumed by the regional government. At the moment it would be hard for the regional administration to take on yet another unexpected expense, but in view of the Court of Auditors' report, rather it seems that would have to assume the overall responsibility for Corvera airport being overdue.