Officials Meet in Madrid to Discuss Corvera - San Javier Compensation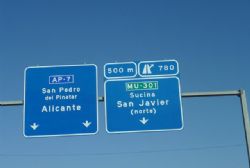 The National Government and the Regional Government of Murcia are reported to have arrived at an agreement with regards to Corvera International Airport being the sole airport serving the region, whereby current Spanish Airports Authority (AENA) employees at San Javier, are offered employment at Corvera airport.
The Region's Minister of Public Works and Planning, Antonio Sevilla, and Secretary of State for Transport, Isías Táboas met in Madrid, where both administrations declared their commitment to "work together to capitalize airport infrastructure in line with the previous negotiations held by the regional president and the minister of development. "
AENA and the Executives at the new Corvera Airport agree that Taboas and Sevilla are important players in the negotiation process and hope that a quick and mutually beneficial compensation package for AENA can be agree upon soon.
All parties have agreed that the new airport at Corvera has the better facilities, and greater potential of the two airports for both passengers, airlines and airport operators, and that San Javier should be ceded back to the Military.