Regional Premier Angers Striking Teachers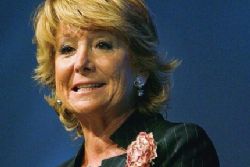 The regional president of Madrid last night angered the Unions and protesting Teachers by accusing them of only actually working for half of their contracted working week.
Esperanza Aguirre made the comments ahead of the three-day strike action which will run until the 22nd, whereby teachers and union members are protesting over cuts to the education system and a resulting increase in working hours for many teachers.
A Protest march has been planned in central Madrid this afternoon which will start at 18.30 in the Plaza Neptuno and end in Calle Sevilla.