Imperial Tobacco sees Spain cut sales growth to 2 pct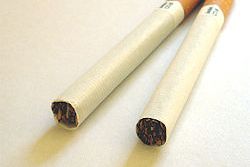 Imperial Tobacco Plc , the world's fourth largest cigarette group, said it expects just a 2% rise in annual sales after being hurt by a savage price war in Spain, while it added recent price rise may ease the pain there.
Spain is Imperial's third most profitable market after Britain and Germany and the outlook for 2012 has improved as all major players have increased cigarette prices after a round of price cuts earlier this year as they struggled for growth.
Imperial is the market leader in Spain with a near-30% market share from cigarette brands like Fortuna, Ducados and Nobel, but suffered from a market depressed by economic woes and a ban on smoking in public places from the start of 2011.
The Bristol-based group, which also makes Gauloises, West and Lambert & Butler cigarettes said on Wednesday it expects annual sales, excluding Spain and the impact of a change in the timing of a UK price increase, to rise around 3% compared to overall annual sales seen up 2%.
Group total cigarette volumes are seen declined in the 12-month period by around 2% but excluded Spain and the UK price effect then volumes are see down by less than 1%.
Imperial increased its cigarette prices in Spain in early July with the world's three biggest players - Philip Morris International , British American Tobacco and Japan Tobacco - also increasing their prices.
The group was giving a trading statement towards the end of its financial year on Sept. 30 and ahead of its annual results on Nov. 1.