Local Businesses to be Biggest Victims of San Javier Closure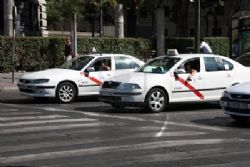 San Javier's Taxi drivers will be the biggest victims if the airport ceases civilian flights, it has been claimed.
For some years now, since the initial plans for Corvera International airport were originally announced, Taxi drivers have been displaying bumper and window stickers on their vehicle proclaiming 'San Javier will not close'. However, yesterday's agreement between AENA and the Regional government looks likely to contradict that statement.
A spokesman said the union of taxi drivers commented how stopping civilian flights at the airport would result in countless local businesses suffering, including Taxi Drivers, Bars, Hotels and Restaurants.
The immediate area surrounding San Javier, which is located on the coast, is also popular with holiday home owners who are unhappy about the prospect of having to travel much further afield to reach Corvera Airport. Although only 19km away as the crow flies, the journey between the airports takes up to 40 minutes by car.