Trade Union Charged With Causing Air Traffic Disruption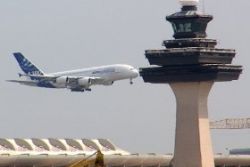 A judge investigating illegal strike action by Spanish air-traffic controllers last year has accused Senior members of the USCA Trade Union of having caused the following disruption.
The so-called 'Wildcat strikes' took the form of almost all of Spain's air traffic controllers calling into work sick at the same time, allegedly suffering from psychological strain over changes to their salaries and working conditions.
The action was timed to coincide with one of the busiest times of the year, with many spaniards looking to jet away for December's extended Bank Holiday weekend.
The Judge also accepted a suit for damages from a group of people affected the disruption, which was only brought to an end after the Military declared a 'State of Alarm' and took control of air traffic control in Spanish airspace.
Luis Vericat, the lawyer representing the group welcomed the news, insisting that the strike was part of a "plan thought up and organized by the leaders of the union."
If the court rules in favour of the passengers AENA, the Spanish Aiports Authority, could potentially be faced with bill reaching 100 Million euros.