PP Regional spokesman criticises Corvera deal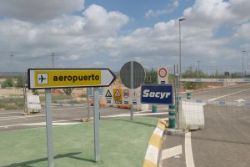 The Partido Popular's regional spokesman, Juan Carlos Ruiz, yesterday spoke out against the Regional delegate, Rafael González Tovar, in his attitude towards the agreement between the regional government and AENA, which described as " unbecoming an officer of government. "
The The PP also criticised the way that Tovar seemed to 'know nothing at all' about the negotiations, and constantly contradicted himself.
Yesterday the delegate defended himself by saying how nothing had be finalised and nothing was certain, but that it could be said that 'the (Central) Government had save Corvera'.
AENA were invited to participate in talk concerning building an airport at Corvera back in 2000, and later in 2004 under the PSOE administration. AENA refused both invitations.
The Minister of Public works, Antonio Sevilla, is due to schedule a meeting within the next few days with representatives of AENA and the Aeromur - the concession holders at Corvera airport - to move forward with an agreement.