Negotiations Between Corvera and AENA 'Are Advanced'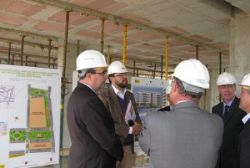 The negotiations between the Spanish Airports Authority (AENA) and the regional government of Murcia, regarding the former's claim for compensation for the closure of San Javier airport in favour of Corvera, has made advances.
This claim was made by the regional government spokesman, José Ballesta, at yesterday's opening of Cartagena University, and coincides with Government delegate, Rafael González Tovar expressing similar optimism.
Ballesta spoke positively about AENA assuming an operational role at Corvera International airport, saying how the experience that they would bring with them would amount to "much more than just management."
The Spokesman also acknowledged that AENA "is a good manager, and operational services are being negotiated because the region should continue to have military airport in San Javier, but also a large civilian airport, which is being built in Corvera, and will be open 365 days a year, with fantastic infrastructure connections suitable for the 21st century ".
He went on to insist that "negotiations are advanced with AENA and I think that those who have not involved themselves in the negotiations are a bit distant and shallow."