BAA to Appeal Against Forced Sale of Stansted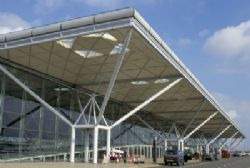 BAA, who is owned by Spain's Grupo Ferrovial, has been criticised this week for continuing it's fight to retain Stansted in it's portolio of UK airports.
The Operator confirmed that they will seek judicial review of the Competition Commission's (CC) decision that they must sell on their Stansted hub and one of their two airports in Scotland.
The move has been condemned by the Stop Stansted Expansion group, whose campaign's economics adviser Brian Ross commented: "This is appalling behaviour and an abuse of the legal process. It's simply aimed at trying to cling onto Stansted for as long as possible in the hope of obtaining a better price."
The busiest airline to use the hub, Ryanair, also criticised BAA. Spokesman Stephen McNamara said: "Stansted airlines and passengers will continue to be overcharged for at least another 12 months by the Ferrovial/BAA monopoly, as they use this judicial review to delay the inevitable sale of Stansted.
"While this sale is delayed, Ferrovial/BAA continues to run rings around the CAA's (Civil Aviation Authority) regulatory regime which the UK Competition Commission described as "inadequate", he continued.
BAA submitted the application for judicial review to the Competition Appeal Tribunal last week, following July's judgement, where the CC rejected the claim that there had been "material changes in circumstances" since it provisionally ordered the sale of Stansted in March – and ruled that the deal must proceed.
The CC insisted that the sale of the airport was "fully justified" and that passengers and airlines would still benefit from greater competition with the airports under separate ownership – despite the current Government's decision to rule out new runways at any of the London airports.