Canary Islands Volcano Alert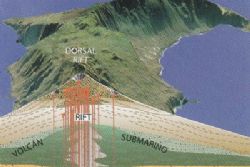 The tiny Canary Island of El Hierro has felt almost two thousand earth tremors in the last two months, which have ranged from between 1.0 and 2.0 on the richter scale and at depths of between 9 and 16km.
On the 27th of July alone over 700 tremors were recorded in just the one day, and just one month later the neighbouring Island of Gran Canaria felt an Earthquake measuring 3.4 on the richter scale.
In most other places of the world this occurrence would not cause too much alarm, however, the Canary Island - and El Hierro in particular, is still Volcanically active. The tiny tremors have been partly explained by the movement of Magma and the expansion of gases underneath the island, however, at these depths such gases and magma plumes rarely reach the surface.
Nevertheless, the Canary Island's Directorate General of Security and Emergency in Tenerife yesterday elevated state of alert to 'yellow' based on increased seismicity - both in terms of number of earthquakes and intensity, some earthquakes as large as M3. This new level of alert means that the government of the island will release regular updates on the activity and make sure that appropriate emergency measures are in place.
Whilst El Hierro has more than 500 'Open Sky Volcano cones', the last activity from the 'Volcan del Lomo Negro' Volcano was in 1794, when the eruption lasted for more than a month.