Final Nail in the Coffin For San Javier Airport ?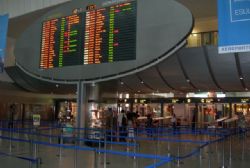 Murcia's San Javier Airport has revised it's forecast for scheduled flights for October of this year - slashing the estimate by some 35%.
For November the forecast is reduced further still, to just 214 flights for the entire month - a reduction of 62%.
Both figures are based on the number of flights to and from the airport seen in 2010.
Earlier this year official figures reported a steep decline in the number of passengers up to the end of July of this year, just 905,480, - 7.3% less than the same period of 2010. The number is way below the 2 million passengers who flew to the airport in 2007, and dwarfed by the 7 million who flew to Alicante's El Altet airport between January and August 2011- a 7.4% increase in the period last year.
In terms of numbers, the 35% reduction for October means that figures will fall from 1330 flights seen in 2010 to 862 in 2011.
As far as November is concerned there will be just 214 flights, while during the same period in 2010 there were 573.
During November there are 6 days in which only one flight per day will operate - the 9th, 14th, 16th, 21st, 23rd and 28th, which is scheduled to arrive from Gatwick with an immediate turn-around just minutes later.
A further five days will handle just two flights per day - the 2nd, 11th, 24th, 25th and 30th.
Over the course of the month the airport will work at it's full capacity of eight flights for just three days: the 5th, 12th and 19th.
The rapid decline of San Javier passenger numbers comes in spite of Ryanair and Jet2 airline announcing new routes to the airport earlier on this year.
Despite negotiations between the Murcia regional Government and the Ministry of Development, AENA is still working on expanding the passenger terminal and the renewal of the inspection of baggage scanners.