Three Penalties Awarded Against Corvera Contractors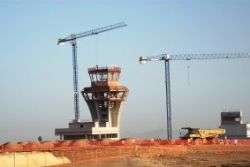 The Murcia Regional Government has issued three penalties against Aeromur - the concessionaire of Corvera International Airport, for a total of 162,000 euros.
Although the Court of Auditors only officially recognises one such penalty clause to the sum of 120,000 euros, the Government has imposed a further penalty for 30'000 for Violating the terms of the project, and one of 12'000 for 'environmental infrinmgement'.
Under the terms of the original agreement Corvera airport should have been open by June of 2010.
The intention now is to open the new airport by Summer 2012, once the tests have been completed and the Civil Aviation National Agency for Aviation Safety licence successfully awarded. It is hoped and expected that AENA will be able to speed this process along if and when they take over the management the airport.
The Court of Auditors also criticised the regional government for not holding Aeromur accountable for the delay, after the initial penalty was appealed.
The government spokesman Minister, José Ballesta, who was previously the Minister for Public Works, said yesterday that just two penalties had been issued against Aeromur, which were outstanding: one of 30,000 euros following a modification of the initial project, which has been appealed by the company, as well as the original 120,000 euros.
The 12,000 euro penalty had been immediately paid by Aeromur without appeal.
Aeromur appealed that it took a total of five months to have the backing of 200 million he borrowed from the Autonomous Region in January 2010, and that they were unable to spend the money until they had this support in writing. This was forthcoming on the very same day that airport was scheduled for completion.