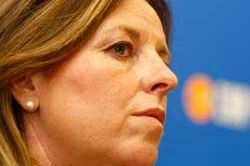 The Bank of Spain has released the General Director of the partially Nationalised CAM Banks, Maria Dolores Amoros.
The lender, also known as Caja Ahorros del Mediterraneo, was taken over by the Bank of Spain in June after turning to the for an injection of 2.8 Billion Euros.
The Bank of Spain's fund for orderly bank restructuring, also known as FROB, believes the Alicante based lender withheld information on the state of their finances under the Director's leadership, according to a CAM spokesman.
Amoros was releived of her position, and the fund is also looking into her 364,947-euro annual pension.
The lender posted a first-half loss of 1.14 billion euros last month and also reported how it's bad loan ration had also reached 19%, due largely to their exposure to property-related debts.
Today's date marks the final day where Banks can submit bids to take on the troubled lender.
CAM's 2011 Q1 profit dropped 37% to reach 39.8 million euros compared to 2010, and that only 8.5% of its loans were at risk.