Govt Suspends Lottery Sale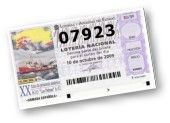 The Spanish Government yesterday suddenly suspended plans to sell off the state lottery for an estimated 7.5 billion euros, following criticism and pressure from the Partido Popular opposition party that it was in appropriate to continue with such a measure so close to a general election.
The process was due to commence on Friday, by issuing 30% of Sociedad Estatal Loterias & Apuestas del Estado SA, which would make it the largest privatisation move in Spanish history.
The Ministry for the Economy did not acknowledge the criticism from the opposition, and instead announced that the sale had been suspended due to not achieving the prices required due to adverse market conditions.
The PP Economic Coordinator yesterday referred to the move as 'selling state assets at a loss'.
Premarketing for the initial public offering began two weeks ago and had attracted widespread interest "The attractiveness of LAE as an investment has not been in doubt I would say. It's a cash cow, debt free and was going to pay out 95 percent of earnings as dividend," said a leading US fund manager based in London.
"But the uncertainty of a new government, which has been against the deal coming into power, may have spooked some foreign investors," he continued.
The Spanish Lottery suffered a fall in sales of 2.5% last year on 2009 despite the economic downturn, however sales have not improved to an increase of 3% on 2010.
The Minister for the Economy, Elena Salgado, insisted that the sale was not cancelled - just suspended - and that the sale would be resumed when market conditions improved.