Spain is Preferred Country to live for 16pct of Brits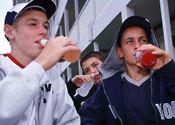 A recent survey on the quality of life enjoyed by citizens of ten different European countries has concluded that the UK comes at the bottom of the list.
France comes in first place, followed closely by Spain in second place, then Italy in third place.
The study commission by Uswitch.com concluded that Brits have the least days off work, have the highest cost of living and pay the most for fuel.
Add that to an increasing retirement age, long working hours, fears over crime and a crumbling society and second-worst climate from the countries polled, and it is easy to see why 95% of Brits are unhappy with their lives in the UK.
Ann Robinson, of uSwitch, said: "Last year at least our neighbours in Ireland were worse off, now we can't even console ourselves with that. "We may still enjoy the fourth highest household income in Europe, but the high cost of living means we're living to work." A significant 59% of Brits said the "broken society"
As a result, 12% of those taking part in the survey revealed that they had given serious thought to leaving the UK to begin a life in another country.
And whilst France topped the list for best quality of life with 7% of Brits choosing the country as an ideal new home, Spain was the preferred destination for 16% of all brits.