24'000 Applicants for 1'000 Jobs at Corvera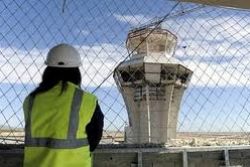 Although there are only 84 Employees of AENA who stand to lose their jobs with the closure of San Javier airport, the UGT and CCOO trade unions report that as many as 510 individuals rely on the airport indirectly for their livelihoods.
A meeting was held yesterday between Union official and representatives of both AENA and the new Corvera international airport to address the situation.
Steps have already been taken to offer positions for the 84 AENA employees at Corvera, however it is uncertain what - if any - compensation will be made available to the 'indirect employees'.
Aeromur, the concession holders for Corvera airport, have already received 24'000 applications foir employment for just 1'000 vacancies and all parties agree that it will be difficult to offer those everybody who stands to lose their job a position at the new airport.
Peter Blaya, speaking on behalf of AENA San Javier, told those present "there are public contracts for things such as private security, cleaning, baggage handling that fall under the management of AENA." He continued, saying that if AENA moved from San Javier to another airport, the contractors should move with them.
Non-AENA workers at the airport have called a meeting for next week, with workers from each sector being asked to appoint a representative.
"Corvera must have the professional experience of these workers, and we bring a performance guarantee", one worker argued in defence of his job.
The 17 Taxi drivers who are based at the airport are especially concerned as their licences cover the municipality of San Javier and not Murcia, where Corvera airport is located. They are calling on the regional government to assist them with this issue.
However, aside from the issue surrounding their employment expectations are high and many acknowledge that the new airport bring better facilities and opportunities for the region.