El Hierro Volcano Update : Fri am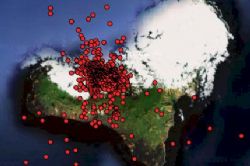 Late Thursday evening the PEVOLCA commitee members decided to allow the residents in the Los Corchos, El Lunchon and Calle Carrera of the Island of El Hierro to return to their houses. However, the Los Roquillos tunnel remains close due to the possibility of falling rocks and landlsides as a result of the recent tremors seen in the earthquake swarm on and around the island.
The reason behind the decision to allow the residents to return is that the epicentre of the seismic activity is moving away from the south of the Island and into the Atlantic.
Thursday as a whole saw a fewer number of shocks than previous days, with 'just' 20 of them above Magnitude 2. However, the tremor were generally more powerful, with 10 of them reaching Magnitude 3 - the strongest one being recorded in the early morning and reaching 3.8.
The depth of the most recent earthquakes also appears to be moving towards the surface with recent shocks now being recorded at depths of 14km.
Volcanologists insist that the increasing number of earthquakes felt underneath the island do not necessarily indicate that an eruption is imminent, and put the chances of an eruption at just 10%.
To date the precautionary evacuations have all been due to potential landslides or rock falls and the emergency services continue to monitor the situation.
Read further news stories about the El Hierro Volcano by clicking the link HERE .