Ryanair celebrate 5 years of operations at Barajas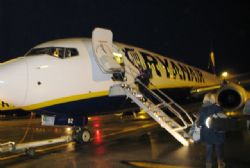 Earlier today Ryanair announced the offer of 14 million passenger tickets on sale at just 9 Euros between Madrid-Barajas, and Gatwick airport. A further 11 Spanish airports are included in the offer for those wishing to fly from Gatwick, including Santiago de Compostela, Santander , Alicante, Almeria, Palma de Mallorca and Ibiza.
The offer is valid for those wishing to fly in November and December and is to celebrate the airline's five years of operations at Barajas airport in November.
Ryanair established a base in Madrid in November of 2006 and since then has introduced 42 international and 11 domestic routes.
Rynair opened new routes from Madrid with Poznan (Poland) and Manchester, and is continuing to pursue new opportunities should they be economically viable. By the end of 2011 the airline predicts they will have carried some 30 million passengers and has contributed more than 65% of the overall growth in passenger numbers seen in Spain this year.