Aeromur offers AENA 20pct of Corvera airport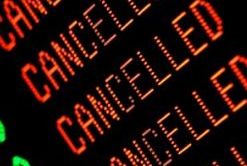 The Concession holder at Corvera airport, Aeromur, has offered AENA a 20% of the ownership at the airport.
This is in lieu of payments for the provision of Air traffic control services at Corvera, and compensation for the closure of San Javier, however, AENA have yet to agree to these terms.
The Minister of Public Works, Antonio Sevilla, and the President of AENA, Juan Ignacio Lema, met in Madrid yesterday to begin negotiations, along with representatives of Aeromur.
As yet there has been no formal date for closing operations at the San Javier airport, although it is widely expected that once agreed to the process would be swift, with the closure being announced late in 2011.
On Wednesday the Minister met with airport representatives to discuss the potential loss of 500 indirect jobs at the San Javier airport and suggested workers form a committee so that formal meetings could be heard in future.
Whilst the future of the 84 staff officially employed by AENA looks certain, the regional delegate, Rafael González Tovar, has committed to 'finding solutions' for the 510 workers at San Javier whose future now looks uncertain.